This post brought to you by Walmart. All opinions are 100% mine.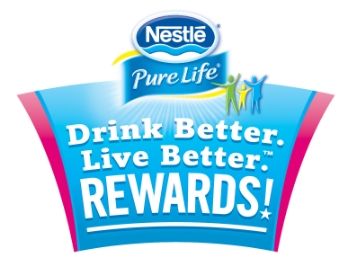 How many of you work hard to stay hydrated?  In the summer it is especially important in our family.
My oldest gets migraines.  She has gotten them since she was 4 and one of her triggers is dehydration. They are excruciating for her and can last up to a week, so we work hard to make sure she stays hydrated.
When we go anywhere we have to make sure we have water for her to drink and throwing a couple of bottles of water like Nestlé® Pure Life® Water in a bag or my purse is a great way to ensure we have enough on hand.
Hydration is awesome (and necessary) but to sweeten that up Nestlé® Pure Life® has created a The Nestlé® Pure Life® Drink Better. Live Better.™ Rewards program that offers even more incentive to stay off thirst.
All you need to do is purchase specially-marked packages of Nestlé® Pure Life® water at then sign up at NestlePureLifeRewards.com and you can start collecting points by entering the unique code on the bottom of the Nestlé® Pure Life® packages online.  For doing this you can then redeem your points for great rewards like free Amazon giftcards, sport equipment, and Free Nestlé® Pure Life® water and more until 9/30/14.
You can also get even more points by signing up through Facebook (you can see the 10 points I earned below by doing that), invite friends to sign up for the program (if they enter points you get points, too!), download the Nestlé® Pure Life® Hydra-Trainer app or watch the Nestlé® Pure Life® Water Wizard videos.
And best of all Nestlé Pure Life is also offering DOUBLE POINTS for Back-to-School when you enter the codes between 7/21/14 and 8/15/14.  Woo-hoo, another perk for back to school!
Sign up today and start earning your rewards.