This is a Sponsored post written by me on behalf of éclos Skin Care for SocialSpark. All opinions are 100% mine.
I have something super fun for you.  I recently had the opportunity to review an éclos Skin Care Starter Kit and they were nice enough to send me a second so I could give one away to my readers!!
It includes:
• Facial Cleanser Skin Prep
• Cellular Activator Face Serum
• Moisture Therapy Regenerative Cream
• Restorative Eye Cream
• Instant Radiance Facial Scrub
• Skin Renewal Clay Mask
• éclos Terry Cloth Head Band
It is valued at $19.99
The éclos Skin Care products use Apple Stem Cells ingredients extracted from a rare Swiss apple. These have shown the ability to stimulate skin stem cells. And this may help your skin look younger.
Now who doesn't want that?
The plant extracts, vitamins and anti-oxidants that they use in éclos as well as the Apple Stem Cell technology may help minimize the appearance of your fine lines, and wrinkles.
What's best about this product is that you can buy it in your local drugstore instead of an expensive department store.  This saves you a ton of money on a high quality skin product.  In fact, when I did research online I found very good reviews of éclos products.
I started using my éclos Anti-Aging Skin Care Starter Kit a little over a week ago.  I used each piece the recommended amount of times on the package daily or weekly.
The Facial Cleanser Skin Prep was easy to use to wash off my makeup at the end of the day (with the help of the headband to hold back my hair).  I used it every day. The Instant Radiance Facial Scrub had a "warm" feel to it when I applied it to my face and it seemed to lightly exfoliate.  I used the Skin Renewal Clay Mask twice during the week.  It went on easily and quickly and with a little help of fanning with my towel, dried quickly.
I used the Cellular Activator Face Serum, Moisture Therapy Regenerative Cream and the Restorative Eye Cream each morning and night.  They all went on smoothly and easily and were just fine under my makeup.  In fact, my makeup even looked a little better.
I personally am more of a fan of unscented products and while this product has a light scent I did find it stayed with me a little too long.  But to be honest, I am not the best judge of scent since I like unscented best.
I did find that my skin looked rejuvenated and brighter after using it.
In the time that I have used the kit actually do see a difference in my fine lines, wrinkles and skin brightness in the photos.  It's not super scientific as the photos above were taken at different angles and with slightly different lighting conditions, but the after really does look better (no retouching other than color and exposure were done). I am sure if I used it longer the results would be even better.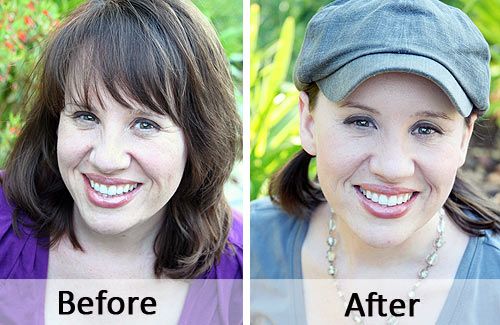 Would you like to try out your own éclos Skin Care Starter Kit?  It is a $19.99 value and we are giving one away.
Just enter on the Rafflecoper below.
When you complete the first entry make sure to tell us which éclos Skin Care product you are most excited about trying in the comment section. You can get additional entries by signing up for our newsletter, liking us on Facebook, and following on Twitter and Pinterest.
This Post Contains Affiliate Links - Disclosure Policy